So we got to celebrate Tyson and Kati's wedding this weekend. It was two days of events. We are so happy they are finally married!
So the night before the BIG DAY at the groom's dinner there was some uncooked chicken that gave some people food poisoning (or so it's believed). Many members of the wedding party were sick on the BIG DAY.... including the bride and groom. So while Kati and Tyson were being sealed Kati almost threw up and passed out. Then while She was posing for family pictures she did throw up, luckily in the flower bed. It was pretty sad. But above it all, Kati was still able to put a smile on her face. At the reception she was feeling better and Tyson started feeling sick. I guess he spent his honeymoon night on the floor of a five star hotel puking. The next day Kati was feeling good enough to drive down to Vegas, with her sick groom sprawled out on the back seat. SAd! At least they'll have one heck of story to tell their kids.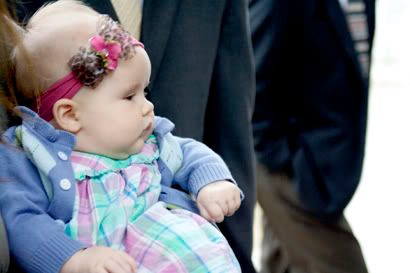 We decided to go to Temple Square in between the sealing and the reception. We drove through the avenues and ate at a cafe in the Joseph Smith Memorial building, and got a tour of the conference center. We found out some sweet facts on the conference center. The organ is digital and can be moved anywhere, there are 7,000 pipes for the organ, the conference center seats 21,000 (energy solution arena seats 19,000), the air flow in the conference room is turned over/ replaced every 9 minutes and it holds the same constant humidity and temperature with/without people, in the summer/winter. The trusses were built to give 3/8th of an inch when filled with people, and the earthquake code for the conference room is higher than that of a hospital. That's all I can remember.
It started raining real hard, and we didn't have a blanket for Stinker... luckily we had my tie dye Tshirt in the car to wrap her in.
After two days of driving up to Bountiful for events TULA WAS POOPED!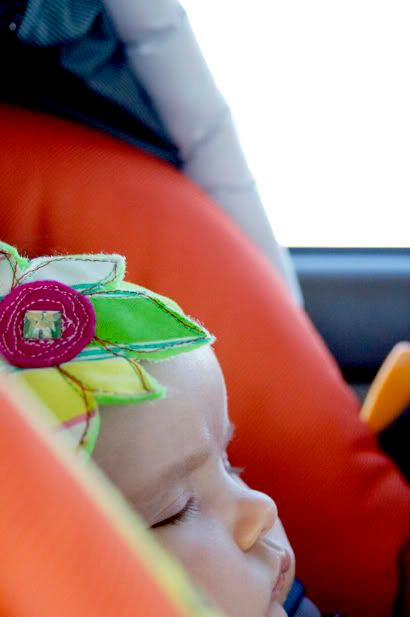 and of course a few more pictures of Tubby.... oh I can't resist. She is getting so big! She was in the high 90 percentile at two months, her four month check up is soon... I can't wait to see how much she weighs. ANY GUESSES? This center picture truly shows how chunky Tubby is getting. I love her LITTLE BIG body.