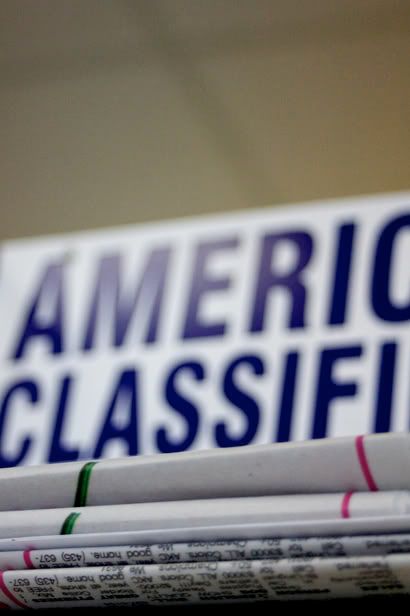 So funny story. Chris has been looking for a new job and I thought I was being pretty smart picking up the CLASSIFIEDS. We were looking through to find VERY FEW postings for jobs. I was way excited when I saw multiple ads stating the the post office was hiring. That would be sweet if Chris was a mail man! (WELL ONLY UNTIL HE GRADUATES). He could make good money an hour. We could get full benefits. It's pretty secure. Paid time off. Chris and I were pretty excited about this job. So he called and they told him the information about the job. You have to pay to get materials for a test, study, and you have to pass...that's it. They said you're guaranteed an interview and if you don't get an interview, they'll reimburse you.
I'm a pretty skeptical person. I told Chris to say, "I don't feel comfortable giving my credit card number over the phone, can I go into the post office and pay for the materials?"
Chris is pretty trusting and was sure it was all fine. So he gave the person his card number, the expiration date, and the security code on the back, along with his full name.
Sure enough Chris later that night was feeling nervous about it, so he googled "Post office scam", and we got so many links talking of how this is a common scam. There were many comments from various people stating that you do have to take a test to get a job at the post office, but they give you the materials for FREE. This ad wasn't from the Post Office! Who's to say they were even hiring. They would've charged our card and sent us nothing, or a bunch of bogus material.
Good thing we caught this in time! Bummer Chris isn't going to be a mailman. I was pretty excited.
....so the search for a new job goes on. If anyone has any connections or knows of anyone hiring please let us know!